(Dietary supplement)
Peppermint oil (Mentha piperita) plays an important role in maintaining health.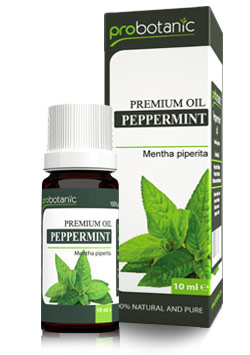 It contributes to the preservation of the health of the respiratory and digestive system
Strongly strengthens immunity
top quality – Pharmaceutical grade
100% pure and undiluted, without additives and admixtures
The chemical composition meets strict British Pharmacopoeia standards (GC/ MS)
Purpose: Helps maintaining healthy respiratory, digestive and immune system.
Active ingredient: Essential peppermint oil (Mentha piperita) (100%)
DIRECTIONS:
Internally: It is used for 2 two weeks during one month or as needed, 1-2 drops three times a day. The oil should be taken after a meal, diluted in one teaspoon of edible oil or honey.
Inhalation: add 1-2 drops of peppermint oil in half a litre of hot water and inhale it carefully with your eyes closed.
WARNINGS:
The product is not recommended for pregnant and breastfeeding mothers, children under the age of 12, or by persons sensitive to any of the oil ingredients. The product may not be used by persons suffering from severe liver damage, cardiac arrhythmia, swallowing disorder, achlorhydria, gastroesophageal reflux, asthma, inflammation of gallbladder and obstruction of bile ducts. Persons having gall stones could get colic due to cholagogue effect. If recommended dose is exceeded, the possible side effects are: diarrhoea, nausea, vomiting, dizziness and irregular heartbeat. Using the essential oil could cause stomach problems in sensitive persons. It is not recommended to use the peppermint oil in conjunction with drugs from the group of antacids, H2 receptors blockers and proton pump inhibitors. Do not exceed recommended daily dose.
NOTE:
The product is not substitute for a varied and balanced diet. Before use, read the instructions carefully.
STORAGE INSTRUCTIONS:
Keep the product in a dry and dark place, at room temperature, out of reach of children.
Lot number and expiry date are marked on the package of the product.
Approved by the Ministry of Health of the Republic of Serbia – Decision No. 12479/2018 dated 07 May 2018.
ADDITIONAL INFORMATION
Peppermint is one of the most popular plants in the world. In addition to all the names under which it is known in our country, lately we started using the English term peppermint. Mint has been used for medical purposes in the countries of Europe since ages, however ancient Japanese and Chinese medicine also used the medical properties of this plant. In national medicine it was used to eliminate nausea, vomiting, cold and infections of respiratory system. It is also mentioned in Greek mythology stating that Pluto turned the nymph Menthe into a plant because, due to his great love to the nymph, he wanted her to be appreciated by people forever. Health benefits of peppermint have been recorded on papyrus dating from the period of ancient Egyptians and pharaohs.
Hybrid mint (lat. Mentha piperita) is one of the most important peppermint from Menthe group since it contains the greatest quantity of medical substances. Peppermint has got a rather pleasant fragrance, particularly its leaf since it contains the greatest quantity of essential oil, which is the actual source of medical benefits offered by this plant. Essential peppermint oil is obtained by steam distillation of the aboveground parts of blooming peppermint. Specific odour which has refreshing and cooling effect originates from the most important active substance of peppermint, menthol, in addition to which this plant also contains other useful ingredients, due to which it has multiple and diversified effect and widespread application.
Committee E has approved the use of essential peppermint oil in case of cold, coughing, fever, inflammation of mouth and pharynx, respiratory system infections, dyspeptic disorders, cramps in upper segments of gastrointestinal system and bile ducts, irritable colon and proneness towards infections.
Product description
Composition: 100% pure and natural peppermint oil.
Lat: Mentha piperita.
Neto: 10ml
Release: Distillation
Pack: glass bottle with a dropper. Cardboard packaging.
References

Proven effects of peppermint oil in treatment of depression
---
Peppermint oil treatment for irritable bowel syndrome (syndrome of nervous colon)

---
A systematic review of peppermint oil (Mentha piperita) health benefits

---
Peppermint oil – usage, scientifically proven beneficial effects, adverse effects
---
Chemical composition of peppermint oil

---
Alternative medicine in treatment of  irritable bowel syndrome (syndrome of nervous colon) 
---