PREMIUM OIL
Lat. Cananga odorata
Ylang – Ylang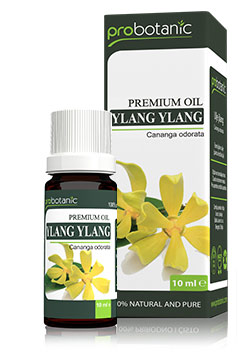 Strong aphrodisiac for both sexes, stimulates erotic impulses
Against anxiety and insomnia
Positive effect on blood pressure
Eliminates menstrual pain
Regulates the sebaceous glands (for dry and oily skin)
Against seborrheic dermatitis
Ylang – Ylang Stimulates Sexual Urges
Ylang – Ylang is an endemic plant that grows in the Philippines, Sumatra, Madagascar. Its name means "flower of flowers" because it has a very strong honey-floral scent that has been used in aromatherapy since ancient times. In Indonesia, there is a custom to sprinkle the bed of the newlyweds with ylang flowers because it is believed that the smell extremely encourages sex drive and libido. Today, ylang is often called "sigh of satisfaction" because it encourages a desire in people who have lost interest in sex life. It is used as massage oil in aromatherapy.
Against seborrheic dermatitis
The essential oil of ylang-ylang regulates the work of sebaceous glands extremely well and in this way helps with seborrheic dermatitis, a chronic inflammation of these glands. Ylang oil is dissolved in base oil (jojoba, hazelnut, and almond) and this is applied to the skin lesions. Because of this regulatory effect on sebaceous gland, the oil nourishes oily, dry, and mature skin equally well.
References

http://www.ncbi.nlm.nih.gov/pubmed/21157172
http://www.ncbi.nlm.nih.gov/pubmed/16807875