During the sixteenth century, Paracelsus, a famous doctor, kept rosemary for his own medical purposes and wrote about it.
Rosemary oil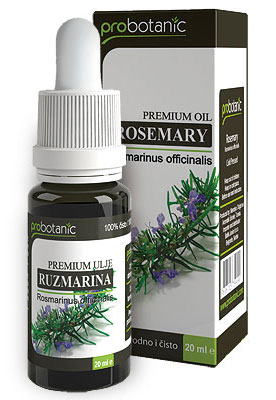 Excellent for aromatherapy
Stimulates brain and central nervous system
Improves circulation and hair growth
Good for concentration
Reduces water retention during menstrual periods
Excellent against obesity and cellulite
Useful against mental exhaustion and depression
He believed that rosemary oil strengthens the body and that it can cure delicate organs. Paracelsus's beliefs have been supported by modern researches related to rosemary oil. Effects of rosemary oil on the brain and central nervous system are obvious since it is extremely successful against mental exhaustion and depression.
It is good for concentration and it stimulates brain activities. It is helpful in treatment of respiratory problems and it is extremely efficient in cases of asthma, bronchitis, catarrh, sinusitis and intensive cough. It is efficient in treatment of eczema, dermatitis and acnes and gives positive results in treatment of scalp and hair – by increasing scalp circulation it stimulates hair growth. Rosemary oil is extremely useful because it reduces water retention during menstrual periods. It is also very helpful against obesity and cellulite. Due to all the above mentioned characteristics, rosemary oil is one of the most popular essential oils and holds an important position among Probotanic premium essential oils.
Product description
Composition: 100% pure and natural oil of rosemary.
Lat: Rosmarinus officinalis
Neto: 20ml
Release: Distillation
Pack: glass bottle with a glass pipette. Cardboard packaging.
User Guide located in the box.