For external use
Essential nutmeg oil is obtained by steam distillation of nutmeg and it is particularly recommended to men. It increases sexual activity, stimulates brain activity and it is an exceptional sedative.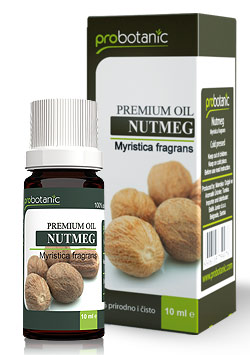 Improves peripheral circulation
Soothes pain in case of rheumatism and arthritis
Provides stimulation in case of fatigue and exhaustion
Relieves stress and tension
Provides better concentration and boosts mental activity through odorant receptors
Increases sexual activity in men
Nutmeg oil gives energy and strength to the body and is beneficial for its vital organs and processes. In case of intellectual exhaustion this oil improves concentration and total mental efficiency, and reduces symptoms of anxiety and depression. It has frequently been used in homeopathy. If you feel any pain in your joints or muscles, nutmeg oil will help you. It is an excellent sedative and reduces pain. It has anti-inflammatory effects and soothes inflammation, pain and edema after mild joint massage. Its relaxing aroma has beneficial effect on the body, it improves the blood flow and therefore it helps in cases of poor peripheral circulation.
Instructions for external use: for massage – dilute 15-20 drops of nutmeg oil in 100ml of edible oil. Apply the oil with gentle massage, with motions going from periphery towards the heart, up to two times a day. Apply a small quantity of oil to clean and dump skin. Excessive oil can be removed by a paper tissue.
Relaxing bath: add 5-6 drops of nutmeg oil in 100g of sea salt and then add the salt to a hot bath.
Dry inhalation: put one drop of nutmeg oil on a paper tissue and inhale the fragrance for several minutes.
Caution: The oil is not recommended to pregnant women, breastfeeding mothers, children under the age of 12 and persons suffering from epilepsy or schizophrenia.
Combination of alcohol and nutmeg oil increases sedation effect of alcohol.
Product description
Composition: 100% pure and natural oil of nutmeg.
Lat: Myristica fragrans.
Neto: 10ml
Release: Essential oil
Pack: glass bottle with a dropper. Cardboard packaging.