For external use
Neroli oil (lat. Citrus aurantum var. amara) is obtained by steam distillation of bitter orange flowers. This oil is one of the strongest natural "antidepressants".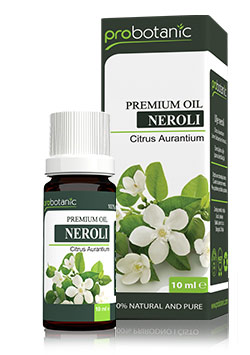 Relaxes the body and soul, stimulates the feeling of joy, romance and happiness
It has positive effect on anxiety and depression
Exceptional aphrodisiac
Reduces palpitations feeling and irregular heartbeat
For the care of skin with broken capillaries and varicose veins
Against wrinkles and dark circles around the eyes – stimulates cellular regeneration of the skin
One of the most respected perfume oils – sweet, floral, sensual, bitter smells
Neroli is a flower of the bitter orange. The name comes from the princess of French origin, Ana Maria de la Tremolle, Princess of Nerola (town near Rome). She loved the flower of bitter orange and she was the first to order perfume made of neroli essential oil for her. This oil is very valuable and appreciated in aromatherapy because it has great effects on the body and soul. By stimulating the CNS directly through the odour-specific receptors, when administered by inhalation or during relaxing baths, it relieves depression and increases the feeling of happiness. It has beneficial effect on fear and insomnia caused by mental stress.
Due to everyday rush and fast paced life, we forget about our health and neglect healthy habits. Lack of sleep and increased exposure to stressful situations leave consequences on human body. Fatigue, lack of strength and energy, impaired general spirits and headaches become more frequent. Neroli oil has positive effect on the entire body, it additionally relaxes tense muscles and stimulates the feeling of joy and happiness.
Powerful aphrodisiac
The oil is used in baths, diffusers, and as massage oil. Neroli removes mental disorders in frigidity, impotence and menopause by calming the sympathetic nervous system and stress hormones. It stimulates sexual desire in both sexes. It promotes a feeling of joy, happiness, romance and tenderness.
Reference

---