Intended specially for oily, impure and sensitive skin prone to acnes and black heads.
Junior skin
Clear, natural, antibacterial, disinfecting, nourishing jojoba oil with tea-tree oil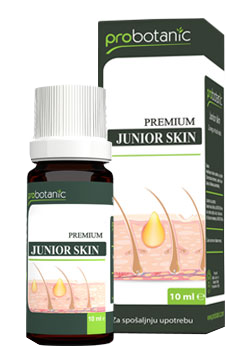 Intended especially for oily, impure and sensitive skin prone to acnes and black heads
Jojoba oil reduces production of sebum, opens skin pores and prevents appearance of acnes
Dries and removes the existing acnes
Regenerates and nourishes deep skin layers
Tea-tree oil prevents development of microorganisms on the skin
Soothes inflammatory processes, hydrates the skin and restores its tone
Excellent product for young, sensitive and problematic, acne prone skin
Tea-tree oil
Tea-tree oil is one of the most powerful plant antiseptics. It is often called "first aid in a bottle", because it kills bacteria, fungi and viruses and at the same time boosts immunity. It contains a complex mixture of organic compounds the most important of which is  terpinen – 4 – ol, especially efficient against Propionibacterium acnes, the main cause of acnes. Another important thing is that tea-tree oil efficiently eliminates Staphylococcus aureus and Staphylococcus epidermidis, the main causes of wide range of skin infections, from mild inflammatory processes to complicated stadiums of acnes and other examples of pyodermatitis. Clinical studies proved the efficiency of tea-tree oil in treatment of mild to middle-serious condition of acnes.
Jojoba oil
Jojoba oil is widely used in cosmetics. Positive effects of jojoba oil were well known even in the ancient times. The Indians used jojoba oil for soothing dry skin,  removing pain and skin injuries. Jojoba oil is rich with nutritious fats and vitamins, especially vitamin E. It softens and nourishes the skin and protects it from harmful external factors. It moisturizes the skin, reduces appearance of wrinkles and keeps the natural skin acidity balance. Jojoba oil is recommended for intensive care of dry skin, natural treatment of acne prone skin and blackheads and for general skin care and treatment of skinredness. It is also helpful in treatment of irritated skin. Jojoba oil is excellent for everyday skin care and for cleaning and protection of skin. It is also used as the base for various skin care mixtures because it is easily absorbed. Jojoba oil has extended anti-inflammatory effects as well as anti-microbial effects. It successfully reduces acnes and production of sebum.
Product description
Composition: a mixture of natural and pure oils.
Neto: 10ml
Release: Essential oil
Pack: glass bottle with a dropper. Cardboard packaging.