Herba Sept Strong
Natural oral spray that has an antiseptic effect, which is recommended for infections of the oral cavity, gums, and the pharynx.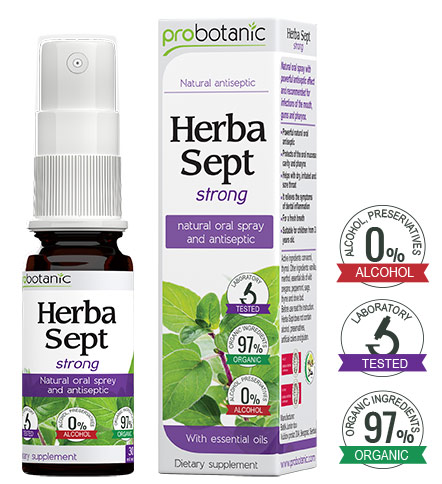 It contributes to the protection of the mucous membrane of the oral cavity and the pharynx
It helps in case of a dry, irritated, and sore throat
It mitigates the symptoms of gingivitis
Ensures pleasant and fresh breath
Herba Sept strong does not contain alcohol, artificial colourants, sweeteners or gluten.
HALAL certified product
Made of 97% organic certified raw materials
It has laboratory verified effects against most common bacteria and fungi in the oral cavity
Suitable for personal application, easy to carry and apply
Dietary supplement
Contents of active ingredients: organic ethereal oil of wild oregano (Origanum munitoflorum), ethereal oil of mint (Mentha piperita), ethereal oil of sage (Salvia officinalis), ethereal oil of thyme (Thymus vulgaris), and ethereal oil of clover (Syzygidum aromaticum).
Other ingredients: organic water of wild oregano, Origanum minutiflorum, menthol aroma.
Method of application:
– Children from 3-12 years of age: 1-2 sprays each time, 3 times a day
– Adults and children over 12 years of age: 2-3 sprays each time, 5-6 times a day
Prior to each application, it must be thoroughly shaken.
Warnings:
The product is not recommended to pregnant women, nursing mothers or to children below three years of age or to the persons hypersensitive to any of the ingredients of the product. The recommended daily dosage may not be exceeded.
Note:
The preparation is not a replacement for versatile and balanced diet. Keep out of reach of children.
Herba Sept strong may be turbid due to its natural ingredients.
Method of storage:
Keep it in a dry and dark place, at room temperature.
Producer: Baltik Junior doo, #20A, Vučićev prolaz, Belgrade, Serbia
Country of origin: Serbia
The lot number and the expiration date are indicated on the packaging.
Approved by the Ministry of Health of the Republic of Serbia – the Decision No. 10327/2017 dated 13/03/2017.
****
Other important information:
Herba Sept strong has been analyzed at the Institute for Biological Research Siniša Stanković of the University in Belgrade. The results of the investigation are impressive and they have confirmed that Herba Sept strong successfully eliminates leading noxious microorganisms in the oral cavity and prevents their further growth. Read the results of the investigation (pdf)
****