(Foeniculum vulgare)
For external use
Essential fennel oil is obtained by steam distillation of fennel seeds.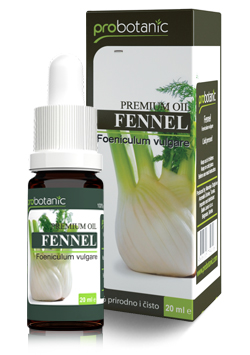 Natural antispasmodic – eliminates the pain and cramps in stomach and muscles
Efficiently eliminates secretion from airways and in case of chronic coughing
Useful for anti-cellulite massage
Nourishes greasy, blemish-prone and mature skin
Ideal for use in diffusers and aroma lamps

Fennel (Foeniculum vulgare) belongs to the group Apiaceae and it originates from Mediterrannean coast. It was grown by ancient Greeks and Romans due to its medical properties. It is rather popular with Roman ladies who chew it due to its diuretic effect and ability to eliminate fat tissue around the waist. Today it is grown around the world and it represents an aromatic plant which is more and more used as food. Each part of the plant is edible – roots and the stem are most usually used for cooking stews and soups, whereas the seeds are used as aromatic spice for liqueurs, candies and perfumes. It has strong, sweet fragrance similar to anise. It has been used for centuries in Asian medicine for appetite reduction, body cleansing, improvement of blood circulation and for soothing stomach and muscle cramps.
External use: massage oil – dilute 30-50 drops of fennel oil in 100ml of edible oil. The mixture can be used by gently massaging it onto abdominal skin in case of cramps, menstrual pain and digestion problems.
Wet inhalation: ad 1-2 drops of fennel oil in half a litre of hot water and inhale the steam for 3-5 minutes.
Dry inhalation: put one drop of fennel oil on a paper tissue and inhale the fragrance for one minute.
Bath: add 5-8 drops of fennel oil in 100g of sea salt, and then pour the salt into hot bath.
Caution: the oil is not suitable for pregnant women, breastfeeding mothers and children, in case of endometriosis, oestrogen dependant tumours, oestrogen related changes on breasts, epilepsy and schizophrenia.
Product description
Composition: 100% pure and natural oil from the Fennel.
Lat: Foeniculum vulgare.
Net: 20ml
Release: Distillation
Pack: glass bottle with a glass pipette. Cardboard packaging.
Instructions for use is in the box.
Reference:

Chemical composition and pharmacological activity of Foeniculum vulgare (Fennel)