For external use
Essential clove bud oil is obtained by steam distillation of clove bud flowers (Syzygium aromaticum).
Clove bud oil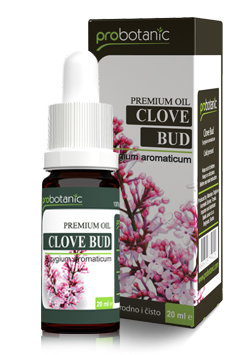 It has analgesic and antiseptic properties
Clears the mind, improves concentration and mental activity
Eases mental exhaustion, enables deep and sound sleep
Aphrodisiac effect
Natural repellent
There are records that the clove bud was used in ancient China for eliminating a bad breath. Those records date from the Han dynasty. Clove bud has also been used for centuries in traditional medicine (Ayurveda) in India.
Clove bud oil contains significant amounts of eugenol, a substance which has already been used in dentistry for a number of years. Gargling waters with diluted clove bud oil can ease pain in sore throat. Clove bud oil is a natural aphrodisiac. Clove bud oil enables deep and sound sleep.
Due to its antiseptic properties, clove bud oil is useful for athlete's foot, fungal infections, bruises, etc. It is also used in case of insect bites. In its natural form clove bud oil is very strong, and should therefore be diluted before use. Since ancient Chinese civilization until nowadays, people use clove mostly as antiseptic and analgesic, even though its use is much wider.
Product description
Composition: 100% pure and natural oil of cloves.
Lat: Syzygium aromaticum.
Neto: 20ml
Release: Distillation
Pack: glass bottle with a glass pipette. Cardboard packaging.
Instructions for use is in the box.
Links

Proven effects of clove bud oil against microorganisms causing dental caries
---