For external use
Essential clary sage oil is obtained by steam distillation of leaves and petals of clary sage (Salvia sclarea).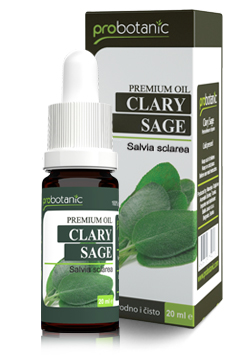 Effective against anxiety, nervousness and insomnia
Improves general spirits, relaxes and brings the feeling of satisfaction
It has analgesic and relaxing effect on the muscles
Improves blood circulation and hair regrowth, reduces dandruff
External use: for massage (sore muscles, joints, relax) add 30-50 drops of clary sage oil in 100ml of edible oil.
Relaxing bath: add 10 drops of clary sage oil in 100g of sea salt and then add all of that to a warm bath.
Hair care: add 3-4 drops of clary sage oil in one spoon of olive oil and massage your scalp with this mixture two time a week, and wash it off with a mild shampoo.
Dry inhalation: put one drop of clary sage oil on a paper tissue and inhale it for several minutes.
Wet inhalation: add 2-3 drops of clary sage oil in half a litre of hot water and then inhale this beneficial evaporation for 3-5 minutes.
Caution: The oil is not recommended to pregnant and breastfeeding women, children and persons suffering from epilepsy or schizophrenia (a strong smell can cause seizure).
Combination of alcohol and clary sage oil increases sedation effect of alcohol.
ADDITIONAL INFORMATION
Sage is one of the most powerful medical essential oils since it has anti-inflammatory, antiseptic, antifungal, antidepressant and antispasmodic properties. It also acts as neurotonic and sedative thanks to its calming components. The oil is obtained from petals and leaves of the plant Salvia sclarea from Labiate family, widely known as Clary – meaning clean and clear. Wild sage essential oil is transparent and of greyish-yellow colour with sweet, nutty and slightly herbal fragrance. It originates from the North of Mediterranean, but it can be also found in northern Africa and central Asia.
The greatest benefit of this oil is that it has a calming effect on people and successfully improves general spirits. It reduces the feeling of stress and anxiety in completely natural way. It reduces cortisol level and has antidepressant effect whereby it restores the feeling of satisfaction.
It also has antispasmodic effect and it relaxes muscles and eliminates painful convulsions and headache. One interesting study at Oxford Brookes University in Great Britain analysed the effect of aromatherapy in women during childbirth. The study lasted eight years and approximately 8000 women participated in it. Results of this study indicate that aromatherapy can be efficient in reducing anxiety, fear and pain during childbirth. Out of 10 essential oils which were used during childbirth, the sage and camomile oils were the most efficient in relieving pain.
Product description
Composition: 100% pure and natural oil of wild sage.
Lat: Salvia sclarea.
Net: 20ml
Release: Steam Distillation
Pack: glass bottle with a glass pipette. Cardboard packaging.
Instructions for use is in the box.
Links

Clary sage oil – chemical composition, active substances, research results and medical uses
---
Presence of Omega 3 fatty acids in clary sage oil
---
Chemical composition and antifungal effects of clary sage oil

---