For external use
Essential black pepper oil has got a sharp, distinct fragrance which calms down and increases energy, and due to its thermal effect it is used for soothing pain and cramps in muscles.
Black pepper oil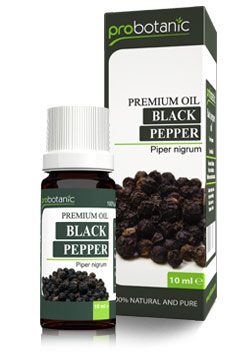 Beneficial for pain in the system of bones and muscles and effective against rheumatic problems
Stimulates muscle and joint movements, neutralizes stiffness
Improves peripheral circulation
Reduces muscle cramps and exhaustion after sport trainings
Eliminates mental exhaustion, improves mental energy flow
Reduces fine wrinkles, tones the skin and breaks down cellulite under the skin
Spice up your health with black pepper oil
Medical properties of black pepper (Piper Nigrum) are numerous. It was once used in traditional Indian, Chinese and Ayurveda medicine and it was also described in many pharmacopeia publications as an ingredient of various mixtures. In the ancient times of Greeks and Romans it was a very important and expensive spice, and it was used for paying taxes and other tolls. Black pepper oil has a strong thermal effect. It reduces pain in muscles and all other kinds of pain related to rheumatism. A compound from the essential oil of black pepper, named piperine, is responsible for its analgesic effects. It is a natural neutralizer of pain which penetrates deep in the muscles and joints. It reduces accumulation of products of inflammation and stimulates transfer of toxins from the muscles into the blood.
It stimulates, fills up with energy and strength. One study from the year of 2002 showed that smelling the fragrance of essential black pepper oil stimulates increased adrenalin concentration in plasma by approximately 1, 7 times.
Product description
Composition: 100% pure and natural oil of black pepper.
Lat: Piper nigrum
Neto: 10ml
Release: Distillation
Pack: glass bottle with a dropper. Cardboard packaging.
References

---
Evaluation of antidiuretic effects of black pepper
---