Biofeme

Softgel capsules with organic evening primrose and borage oil
Biofeme is a dietary supplement with organic evening primrose and borage oil that provides optimal intake of gamma linolenic acid (GLA).
Biofeme – main characteristics: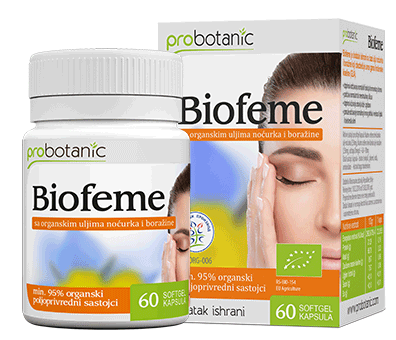 contributes to maintenance normal functions of the hormone system
supports healthy menstrual cycle
contributes to the preservation of the healthy skin and joints
helps to maintenance normal blood pressure, lipid and blood cholesterol levels
---
Active ingredients per softgel capsule: organic evening primrose oil (250mg), organic borage oil (250mg), thereof omega 6 – gamma linolenic acid (80mg).
Other ingredients: capsule – bovine gelatin, glycerol, water, antioxidant – extract rich in tocopherol.
Directions for use: 1 softgel capsule 2 times a day with a meal.
Warnings:
The product is not recommended for pregnant and breastfeeding women, children, as well as persons hypersensitive to any of the ingredients of the product. The product should not be taken by persons who have: coagulation disorders, severe liver damage, epilepsy, schizophrenia, and person on anticoagulant therapy. Possible side effects of the product are: headache, nausea, vomiting, abdominal pain. Stop using the product 2 weeks before surgery. The recommended daily dose should not be exceeded.
Note:
Dietary supplements are not a substitute for a varied and balanced diet.
Storage instructions:
Keep the product in a dry and cold place, protected from light.
Approved by the Ministry of health of the Republic of Serbia: 13022/2018 since 13.08.2018.god.
ADDITIONAL IMPORTANT INFORMATION
The evening primrose (Oenothera biennis) was originally found in Mexico and Central America. It was named after yellow flowers that open in the evening and close early in the morning. The evening primrose is one of the most fascinating herbs in the history of medicine. In addition to culinary use, it was also used for skin problems, bruises and asthma. In Europe, was brought in the 18th century when only botanists were familiar with its benefits, but the first scientific confirmation was given in 1917 when it was discovered that the oil of this plant is rich in omega 6 gamma linolenic acid.
Boražina (Borago officinalis) je biljka karakterističnog zvezdastog cveta plavičaste boje. Samonikla je u Sredozemlju i južnoj Evropi, medjutim uzgaja se u celom svetu. Rimljanima je boražina bila poznata kao "biljka radosti", pa su je često koristili kao antidepresiv. U Srednjem veku bila je popularna za različita zapaljenja, protiv reumatizma i srčanih problema.
The borage (Borago officinalis) is a plant with characteristic starlike blossom of flowers. Self-sown in the Mediterranean and southern Europe, but it was cultivated all over the world. By the Romans was known as the "plant of joy", so they often used it as an antidepressant. In the Middle Ages it was popular for various inflammations, against rheumatism and heart problems.
Evening primrose and borage oil are obtained by cold pressing of plant seeds. They are an excellent source of omega 6 fatty acids. Their secret is hidden in gamma-linolenic acid (GLA) which accounts for 9% in evening primrose oil and 20% in borage oil.
The most important omega 6 fatty acids are:
linolna (LA),

gama linolenska (GLA),

arahidonska kiselina (AA).
Linoleic acid (LA) is considered as an essential fatty acid that human body can not produce, while GLA and AA can be obtained from linoleic acid. However, in some situations and under the influence of many factors this conversion can be difficult. For this reason, gamma linolenic acid can be imported to a certain extent through vegetable oils.
Gamma linolenic acid (GLA) is very important for maintaining the balance of the entire organism, precisely when it comes to the normal relationship of omega 3 and omega 6 fatty acids. The results of a large number of studies suggest that omega 6 fatty acids could favorably affect on the level of cholesterol and lipids in the blood, blood pressure, health of skin and joints, and in maintaining the health of the hormonal system.