Wild oregano oil
Wild oregano grows in the remote, inaccessible, mountainous regions of the southern Mediterranean. It is not possible to raise wild oregano since it is completely different from common oregano we use as spice. There are several kinds of wild oregano.

Wild oregano oil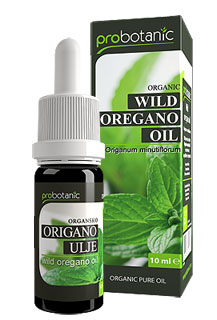 A serious opponent to the strongest antibiotics
Efficiently kills over 30 kinds of microorganisms
The most efficient antimicrobial ethereal oil
Perfect prevention from flu and cold
For boosting immunity
More active than garlic and Echinacea
26 times stronger than phenol
100% organic, certified
Probotanic Oregano oil is made from Organum Minutiflorum, an endemic plant, which grows only on the Taurus Mountains in southern Turkey. It grows in less accessible regions. Exactly that kind of plant habitat is the basis for the scientific fact that Origanum Minutiflorum is the strongest kind of wild oregano ever found, with the highest percentage of the active substance – carvacrol.
What is carvacrol?
According to numerous researches, the essential antibacterial and active element of oregano is carvacrol. The higher percentage of carvacrol in oregano oil, the more efficient and valuable the oil shall be. It has been proved that oregano oil does not allow bacteria to breathe and kills them in a very short period of time allowing neither their mutations nor resistance. Oregano oil even kills already mutated bacteria. Oregano oil is helpful in all problems caused by microorganisms. A large number of studies support the enormous power of wild oregano. As early as in 1910 it was confirmed that wild oregano oil is the strongest herbal antiseptic in the world. It is pure luck for us to have such a rare kind of oregano at our disposal. Let's not miss it.
Proved microorganisms eliminator:
Escherichia coli 0157:H7, Candida, Salmonella enteritidis,  Salmonella typhimurium, Psudomonas aeruginusa, Listeria monocytogenes, Staphylococcus auerus i albus, Bacillus, Antracis, Proteus mirabilis, Staphylococcus epidermidis, Micrococcus flavus, Bacillus subtilis, Enterobacter cloacae, Yersinia enterocolitica, Lactobacillus plantarum,  Aspergillus niger, Geotrichum, Rhodotorula.
Product description
Composition: 100% pure and natural oil of wild oregano.
Lat: Origanum minutiflorum
Neto: 10ml
Release: Distillation
Pack: glass bottle with dropper. Cardboard packaging.
User Guide is in the box.
Certified organic oil
This post is also available in: French, German, Italian, Spanish, Portuguese (Portugal), Serbian
DOWNLOADS

Recent posts: